Bob's Best Products:
---
Additional Products:
---

Articles: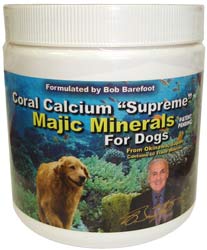 Bob's Best Coral Calcium For Dogs
Contains a Blend of Beef and Chicken
Flavored Biscuits that Dogs Can't Resist!
NOW AVAILABLE!

-

For years, people who have loved our Coral Calcium products, have continued to ask us a question.
"Do you have a Coral Calcium Product for our Pets?"
In response to all of our "Pet Lovers" requests, we are happy to introduce our
"NEW"
Coral Calcium Product for Dogs:
BOB'S BEST Coral Calcium for Dogs.

---
Supplement Facts:
Serving Size: 3 biscuits

Servings

per container: 30
Amount per serving from a proprietary blend
Magnesium 345 mg
---
BENEFITS OF CORAL CALCIUM -

For decades, millions of people have reported the tremendous health benefits of Coral Calcium due to its superior form of calcium and trace minerals. Now your Dog can benefit from Marine Grade Coral Calcium which contains a naturally perfect 2 to 1 calcium to magnesium ratio.
THE ULTIMATE SUPPLEMENT FOR YOUR DOG - As important as dietary calcium is, it does not work alone. Many mineral nutrients are interdependent and cannot function as a single element. That is why each of our Bob's Best Coral Calcium for Pets Product are loaded with the following critical biological nutrients: Vitamins A, C, D, B-1, B-2, B-3, B-5 and B-12 along with over 70 naturally occurring trace minerals which are only present in Marine Grade Coral Calcium. Simply stated, these Pet Products are the most comprehensive Multi-Mineral and Multi-Vitamin Pet Products on the market and available for sale today.
GREAT TASTE THAT YOUR DOG WILL LOVE -

Formulated by Robert Barefoot, each Pet Product was developed according to Bob's exact specifications from his decades of experience in Biochemistry combined with practical knowledge and attention to each animals taste preferences.
ECOLOGICALLY CORRECT -

In accordance with Japanese law, the marine grade coral calcium used in Bob's products is collected with ecological safety. No coral reefs are damage during the collection of the coral calcium.
If you have Dog Health Questions or Dog Health Problems, you owe it to yourself and your canine to provide him or her with the nutrition they need. Try Bobs Best Coral Calcium for Dogs, you have nothing to loose and everything to gain. Provide them with the "Best" Dog Health Food available!
At this time, you will not find Bobs Coral Calcium for Dogs at Dr Dog Pet Supplies Cat and Dog Health Care - This outstanding product is available Online at RobertBarefoot.com
These statements have not been evaluated by the F.D.A. This product is not intended to treat, prevent, diagnose, or cure any disease